2021 March 12
Easter in Germany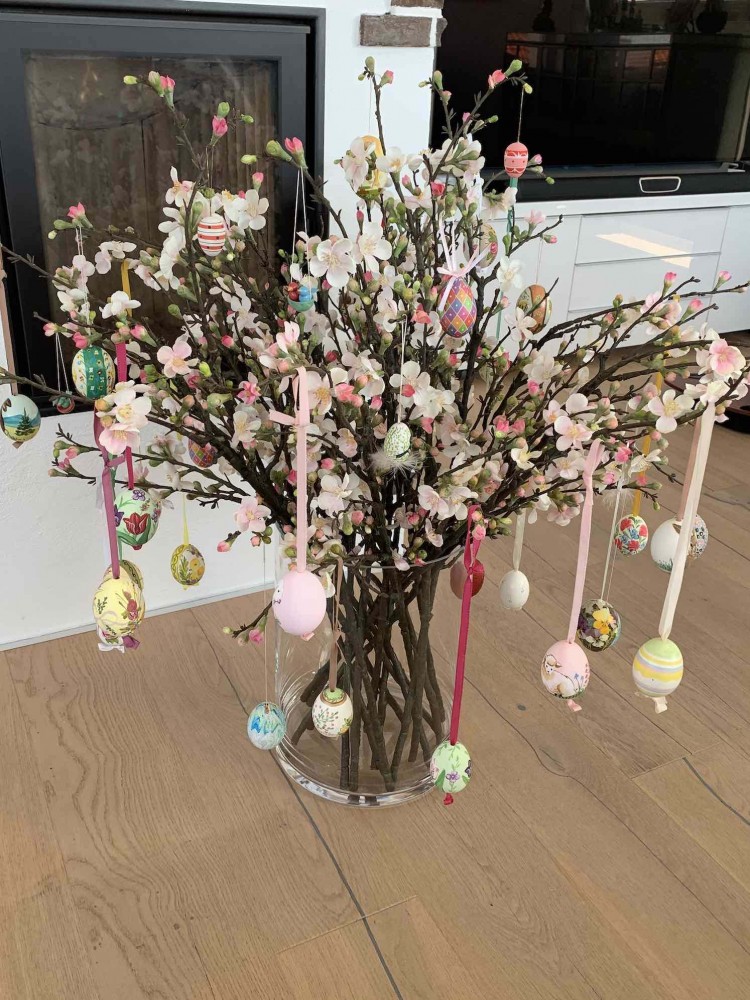 Time to hunt for eggs and decorate your house.
Everywhere in Stuttgart, the nature becomes green and the fruit trees start to blossom ... it is spring!
And with spring, Easter time has come, which you can undoubtedly see in the supermarkets presenting all the yummy chocolates to us - temptation after the lent. (Read more about lent in the blog about Fasching.)
Easter is celebrated as a religious (christian)holiday, recognized as the triumph of life over death (resurrection of Jesus) and light over darkness.
As Easter is in spring it is also the time where nature awakens to new life. Nature and our lives are as colorful as the Easter eggs you see everywhere. It is a feast of joy involving Easter bunnies, Easter eggs, rabbit/lamb pastries and Easter lamb. So for many people Easter is a time in which many traditions are cultivated.

One of the main feature at Easter are colored Easter eggs (Ostereier). They are the perfect gift and children still receive them from the Easter bunny (called Osterhase). The bunny (well the parents) traditionally hides the eggs in the garden on Easter Sunday and the children swarm out to find them. Of course, here also chocolate eggs are mandatory or a chocolate Easter bunny. Sometimes, there are little presents in Easter nest for the kids, too. Depending on the family tradition.
The Swabian Alb has another tradition - instead of searching the children prepare a so-called "Hasengärtle", a rabbit garden for the Easter Bunny to place the Easter eggs and sweets. Usually this is a small plot made of twigs and moss, surrounded by a fence out of twigs or stones.
Here is a link on how make to make Ostereier yourselves: Easter eggs - how to make them yourselves
The eggs which are not to be eaten are hung on shrubs or decorated in the house.
This is called Osterbaum. Easter Tree.
More about where you can buy your Easter decoration here: Shops Decoration
Around Easter you can also see small or bigger fires in many places, called Osterfeuer. On the one hand they are supposed to banish winter and on the other hand it is a Christian tradition. The light of the fire remembers of the rebirth of Jesus. He brings light and hope to everyone. Also at Easter, the new Easter candles will burn in the churches and they are lightend with the Easter fire. In some communities around the Easter fires there is also a small celebration.
Many children or adults make an Easter candle called Osterkerze in the days before Easter. This Easter candle is intended to symbolize a small Easter fire. It is lit on the Easter holidays in the circle of the family.
Another tradition is the Osterspaziergang. An easter walk with the whole family to the designated place in town to meet most of the neighbors and extended families.
The typical Easter plants and flowers are early spring bloomers: first and foremost daffodils (narcissus), in German referred to as Osterglocken (Easter bells), also hyacinths, tulips, violets, primroses and cowslips. People buy them for their houses or plant them in their gardens and also give them as a present to friends.
The little town called Schechingen is really famous for their Osterbrunnen (Easter fountain) – a Swabian tradition. This village fountain is decorated with over 12.000 eggs and visited by many 10.000 visitors each year.
In Sonnenbühl on the Swabian Alp you can also find an Ostereiermuseum (Easter egg museum)
Here is the link: Ostereiermuseum
Also some towns have and Ostermarkt similar to a Weihnachtsmarkt. On an Easter market you can find all sorts of crafts and food.
Osterfeiertage - Easter in Germany - the actual days
The German Easter traditions start on God Friday (2022 on the 15th of April) and end with the Second Easter holiday (18.04.2020), which is the Monday after Easter Sunday. On God Friday and Easter Monday all shops, schools and government offices are closed.
Good Friday is the Friday before Easter – traditionally an abstinence day. It is meant to remind us of the death of Jesus Christ and to show us how transient life is. This is usually a meat-free day – some people do cheat though – they eat Maultaschen (to read more about the little 'cheaters' click here)

Easter Sunday and Easter Monday are days of celebrations. Families & friends get together. The traditional food is for example a sweet yeast bread in the morning and (painted) eggs, pastries and lamb.
Being full a lot of families enjoy little trips or the Osterspaziergang mentioned earlier.

Happy Easter!
April 2019 - revised 2022
by Christine Krämer & Kira Neumann
This blog post is a personal recommendation and based on personal experience. It has been prepared with the greatest possible care and does not claim to be correct, complete or up-to-date."
Picture credits Couleur, Bruno Glätsch auf Pixabay, Christine Krämer
Tell your friends about us today - thank you :-)
---
---