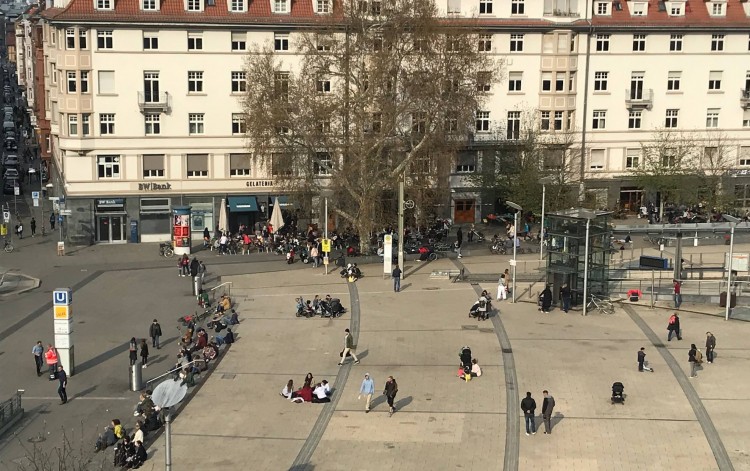 2019 April 02
Marienplatz in Stuttgart
Cafes, Restaurants, Yoga and more
The sun is shining! Time to get out of the house and enjoy Stuttgart – today featuring the Marienplatz in Stuttgart Heslach.
Adjourned by cafes, restaurants and shops it is a quite relaxing place to be. We, from Kiramiga, personally like ice cream and enjoying a latte or cappuccino in one of the many the cafes before hitting the many shops to complete our shopping list before heading home.
And if you do not have any time to cook, you can find some yummy restaurants and take away places. One of the Kiramiga favorites is a place called Marien Grill, which features Turkish delights in a healthier version.
And if you want out of the "Kessel" (kettle or cauldron - locally referred to as downtown Stuttgart of being located in a valley) you just take the Zacke (cog railway) up to Stuttgart Degerloch – walk around the area and back down in to Stuttgart.
Read more about public transportation in Stuttgart
Public transport in Stuttgart


Cafes:
Condesa: Marienplatz 11
Cafe Kaiserbau, Marienplatz 12 (cafe/restaurant with lunch)
Misch Misch: Tübinger Str. 95
Pizza
L.A. Signorina Marienplatz 12
Ice Cream
Gelateria Marienplatz (try the frozen yoghurt...yum!), Marienplatz 12
Eis Cafe La Luna on the Marienplatz
Restaurant
Marien Grill, Böblinger Str. 13
Yoga
Yoga 13
...and many more to explore.
April 2019
This blog post is a personal recommendation and based on personal experience. It has been prepared with the greatest possible care and does not claim to be correct, complete or up-to-date."
---
---