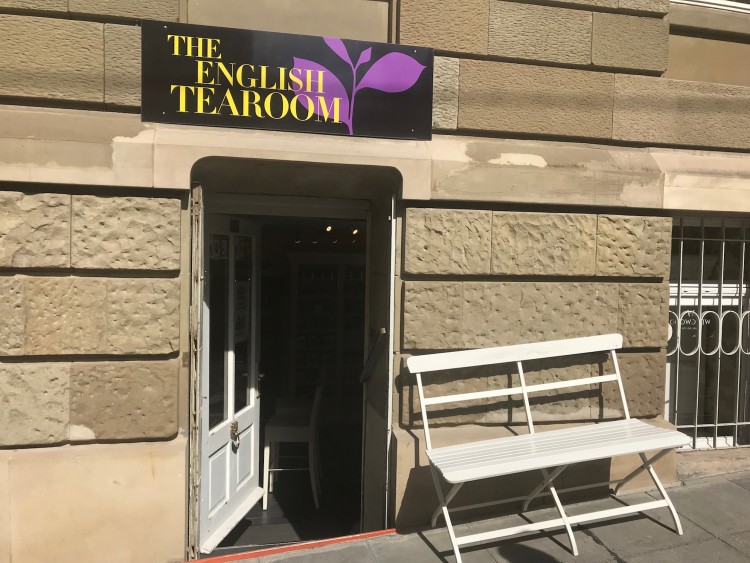 2019 April 02
The English Tearoom
Best Tea in Stuttgart
Do you love a good cup of tea? Or are you curious what a good cup of tea really is about?
This is the place to go to – you can just feel the passion and love for tea of Lynn and Christian Hazlewood.
Their idea is to provide people with good quality tea and you feel that they want to make their customers happy – and their tea providers, too.
What started 8 years ago out of a coincidence and passion is now a comfortable and homely place to shop, chat and even sample tea.
Apart from their own unique typically British (e.g. "Earl Grey", "English Breakfast Tea") and Royal blends (e.g. "Prince William Blend", "Prince Harry Blend", "Kate's Afternoon Tea"), they are specialized on rare white, green, oolong & Darjeeling teas. They also provide a wide range of herbal teas, which can help you with all sorts of conditions (my favorite ones are the Immune Booster and the Keep Calm and Carry On). On top of that they carry a wide selection of Japanese tea and matcha.
Why is their tea so special and what makes them different?
First of all their passion for tea, but more important is their knowledge of the production methods, tea gardens and the people behind the tea. They know their suppliers, pay fair, visit them regularly and support two families on a tea estate by paying for the private education of their children too.
And to support sustainability you get a discount of 50 cents on your purchase, if you take your own tin or refill the pouch bought at their place.
But what is a cup of tea without a biscuit or a scone? You just have to try my favorite biscuits – Lynn will let you know which ones, when you visit the shop. Maybe you even get to try one with your tea sample Jor you just buy clotted cream to go with your homemade scones…you do not know how to bake them? Then join the scone workshop which is offered at their The English Tearoom Showroom and Tea School amongst other workshops around tea. https://www.the-english-tearoom.de/en/store/catalog/seminars-teatime
Last but not least to make your shopping day complete have a look at the exquisite and cool cups and teapots from all over the world.
The English Tearoom is the perfect shopping experience all around tea, to give yourself a treat or buy beautiful presents for your family and friends.
And if you cannot come in person – just order online (for advice feel free to call beforehand – Lynn and Christian are more than happy to help)
Shop opening times:
Tuesday - Friday: 11.00 - 19.00
Saturday: 10.00 - 18.00
Showroom & Tea School
(Afternoon Tea, Baking Classes & Seminars):
by appointment
Contact:
Weißenburgstraße 29, 70180 Stuttgart
Tel: +49 (0)711 518 74 006,
E-mail: hello@the-english-tearoom.de
Website and Webshop:
https://www.the-english-tearoom.de/en
Public Transport:
Bus 43 to the stop Falbenhennenstrasse and then downhill, turn left.
Underground stop "Österreichischer Platz", then uphill!
April 2019
This blog post is a personal recommendation and based on personal experience. It has been prepared with the greatest possible care and does not claim to be correct, complete or up-to-date."
---
---