2018 October 07
Kindersachenbazar - Used childrens' goods market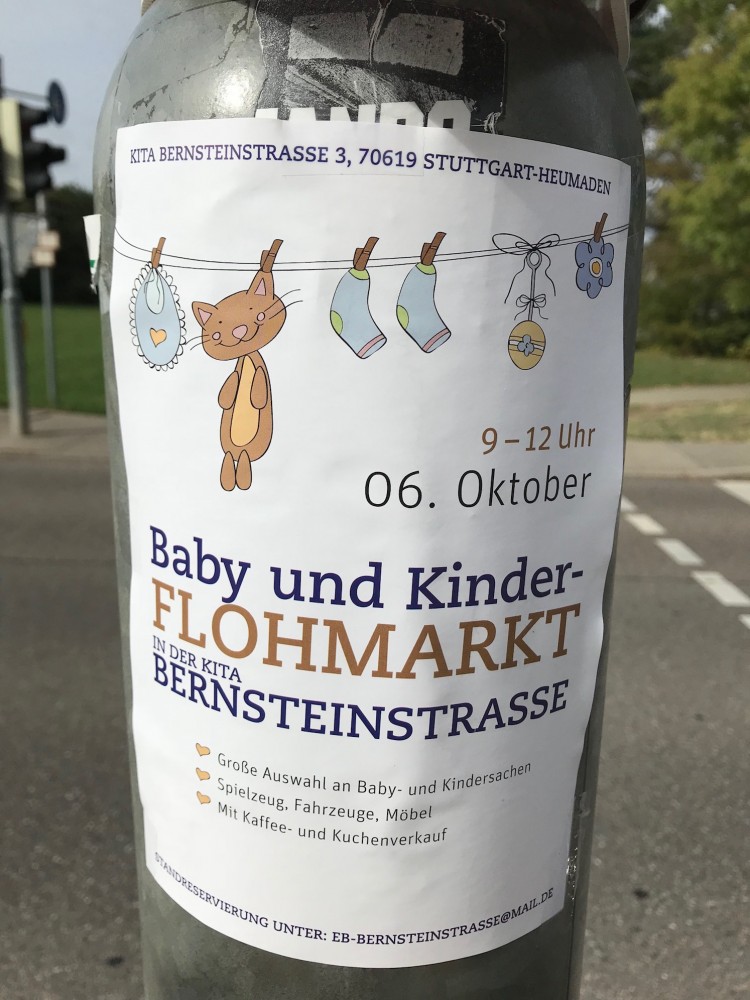 Maybe you have noticed signs like this before....
– usually tied to lamp posts, at the notice board supermarket, in little shop windows like bakeries and alike.
These are advertisements from the local Kindergartens, sometimes primary schools, for used clothes markets (Kindersachenmärkte oder Kinderflohmärkte (Flohmarkt = Fleamarket). Sometimes they are also advertised in the parents magazine Luftballon (Veranstaltungen / events) – you can also do an online search.
Under the drop down menu RUBRIK (category) select Märkte (markets) and also chose the Zeitraum (period) and hit SUCHE (search).
What is a Kindersachenmarkt or Kindersachenbazar?
It is basically a second hand market / used childrens good market, where you can buy clothes, baby supplies and toys from other families – mostly in a really good condition. There are two types.
The unsorted ones (unsortiert):The families sell themselves and therefore you can bargain, talk to them and see where the clothes come from, if this is important to you. But mind you there can be a little more searching involved for what you are looking for.
The sorted ones (sortiert):prices are labeled and usually sorted by size and sex and categorie (pants, shoes) – so much more organized, quicker but not as communicative.
Usually they are held twice a year: in spring (February/March) for spring and summer clothes in fall (September/October) for autumn and winter clothes.
I, for example, already know which people to go to as they always have the sizes on sale and clothes I like for my children.
Pregnant women
Usually pregnant women can enter half an hour before the actual opening (please take your Mutterpass as prove), so that they can browse in peace and in a less stressful atmosphere. Be aware, if it is a "famous" Kindersachenbazar, it can be a little crazy in the run for the best items…
Most Kindersachenmärkte have child care in place (in the adjourned Kindergarten – please check their flyer) so that you can shop in peace. In general I would not recommend to take your children, as the markets can be quite crowded.
BAKE SELL
Also there is always a bake sell going, as well as drinks and waffles to support the income of the institution.
Even if you are not there for buying anything, it could be an interesting cultural event and you can buy some home made cake to eat or take home.
If your child is actually visiting a German Kindergarten, you will be roped into this to help to sell cake, to donate cake, to help with preparation and clean up. The bazars are usually organized by the parents' association and as the money goes to the Kindergarten also your child will benefit.
On top it is a good way to get to know people, culture and to integrate into the community.
Englisch Playgroup Stuttgart
The English Playgroup Stuttgart is organizing a semi-annual Kinderbazar as well.
It usually takes place at the Markuskirche in Hedelfingen.
Please check their webpage for the exact dates: www.englishplaygroupstuttgart.wordpress.com
OTHER USED GOODS MARKETS
BUT there are also a lot of other used goods markets like
Fahrradflohmarkt, Fahrradbörse = bicycles and scooters
Bücherflohmarkt = books
Spielsachenflohmarkt = toys
Skibörse = skigear, ski & snowboardboots, skis, snowboards etc.
OUR 7 Tips and Tricks:
If you are pregnant check the opening times for pregnant women and take your Mutterpass.
Make sure you know your childrens' size. German sizes are usually in centimeters.
Check for childcare or go without your kids.
You need cash and a lot of small change.
Bring your own bag or several.
Be on time or early. If it is a good bazar, people tend to stand in line to get in first to make the best deals.
2019 - update 2020 by Kira Neumann
This blog post is a personal recommendation and based on personal experience. It has been prepared with the greatest possible care and does not claim to be correct, complete or up-to-date."
If you like what we do - please share with your friends.
https://www.instagram.com/kiramiga/
https://www.facebook.com/relocationbykiramiga/
or sign up for our NEWSLETTER on our website.
---
---