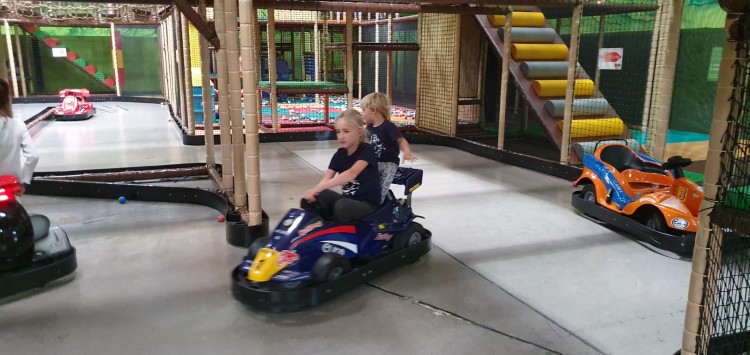 2019 October 25
Indoor Playgrounds in Stuttgart Area
Looking for something to do with your kids and having a break?
There are several Indoor Playgrounds in and around Stuttgart, which are ideal if the weather is bad and you NEEEED to get out before going crazy.
Because of Corona often reservations / pre-bookings are required before you go. Make sure to check their websites with google translate to be on the safe side.
2 THINGS TO TAKE
So get into comfortable clothes and bring socks, better slippersocks with a textile sole to prevent slipping and join the fun (some of them require especially those). Trainers are not allowed.
FOOD AND DRINK
In general your own food and drinks are not allowed, but there is catering, where you can buy snacks and drinks.
BIRTHDAY PARTIES
Nearly all Indoorplaygrounds offer birthday parties and packages. Usually you can bring your own cake. Please check packages and prices at their webpage.
Special tip:
buy the same T-Shirts for your bunch of kids as a give away for them and an easy identifier for you to check where they are and summon them for food or other activities.
Here the Indoorplaygounds by region:
Please find below a list of Indoorplaygrounds in the region.
Make sure to check their opening hours (Öffnungszeiten) and holidays (Schließtage) on their webpages before you go and check if you need a pre-booking.
All age groups – kids of all ages are allowed, but this does not mean that it is fun for the older ones.
Have a look at their webpages and you will know, as you know your child best.
Stuttgart
Karamellchenwelt Stuttgart Zuffenhausen (0-8)
Erlebnis-Familienzentrum
Grenzstraße 7
70435 Stuttgart Zuffenhausen
0711 93321930
especially suitable for smaller kids
Sprungbude (recommended from 8 years – younger kids allowed but to be accompanied by an adult all the time)
70374 Bad Cannstatt & Filderstadt

Indoor playground with trampolines (just around 80…)
You need to buy their special socks (2,50 Euros) in addition to the entrance fee.
Very good for older kids and their birthday parties.
Each child under 18 needs and admission slip signed by their parents.
Tobidu Kinderland Stuttgart Fellbach (all age groups)
Stuttgarter Staße 106
70736 Stuttgart-Fellbach
Trainstop: Höhenstraße
Frechdachs
ecological indoor playground for the little ones up to 6 years.
Gablenberger Hauptstr. 27
70186 Stuttgart
Direction Ludwigsburg
Spielzeit Leonberg (0-7 years) - make sure to reserve your spot
Neue Ramtelstr. 24
71229 Leonberg
Croco Island (all age groups)
Heilbronner Str. 61
71723 Großbottwar
Jumpinn (0-12)
Wasenstr. 35
71691 Freiberg a. N.
Kikolino (all age groups)
Friedensstr.91
71636 Ludwigsburg
Trainstop Daimlerstraße
Simigolf (from 10 Years)
Bahnhofstr. 95
71679 Asperg
Trainstop Asperg
Ravensburger Kinderwelt (3-12 years)
Bahnhofstr. 2 (Wette Center)
70806 Kornwestheim
Trainstop: An der Wette
Direction Echterdingen
bambilicious (0-5 years)
Kanalstr. 6
70771 Leinfelden-Echterdingen
0711 76103400
especially suitable for smaller kids and babies – they offer the full range of food especially for the little ones too!
Direction ESSLINGEN
funpark Köngen (all age groups)
Imanuel-Maier-Straße 3
73257 Köngen
Special feature: The roof of this indoor playground can be opened if the weather is nicer than we thought.
Kikimondo (up to 12 years)
Dettinger Str. 136
73230 Kirchheim Teck
Direction Böblingen
Freestyle Academy (all age groups)
Drescherstr. 54
71277 Rutesheim
07152-3195890
This is a skater/scooter/trampoline park also for older kids/teens, but with a small area for little kids up to 6 years.
To use the whole area you need to attend an introduction course (Royal coachman), which you need to sign up for via the Internet. Please call them or check their website for further information.
Sensapolis (all age groups – English website)
Melli-Beese-Str. 1
71063 Sindelfingen
070312 048530
Trainstop: Calwer Straße
Huge indoor playground also great for older kids, therefore also a little pricey.
Greater Stuttgart Area
Froggyland Cabriolo (2-13 Jahre)
Ernst-Abbe-Str. 33
72770 Reutlingen
Funpark Waldrems (für alle)
Donaustr. 3
71522 Backnang
Fuxini-Indoorspielplatz
Pforzheimer Str. 113/1
75417 Mühlacker
Indoor Soccer (not only for kids....)
Soccer Arena Sindelfingen
Schwertstr. 5
71065 Sindelfingen
07031/7242009
Hall of Soccer
Hornbergstr. 36
70794 Filderstadt
0711 – 70703955
Please also check the Blogpost about winter playgrounds - they are for free and a lot more low key - like playgrounds outside in the summer.
Revised June 2020 (October 2019) Kira Neumann
This blog post is a personal recommendation and based on personal experience. It has been prepared with the greatest possible care and does not claim to be correct, complete or up-to-date." Picture credit: Kiramiga
If you like what we do:
https://www.instagram.com/kiramiga/
https://www.facebook.com/relocationbykiramiga/
or sign up for our NEWSLETTER.

---
---