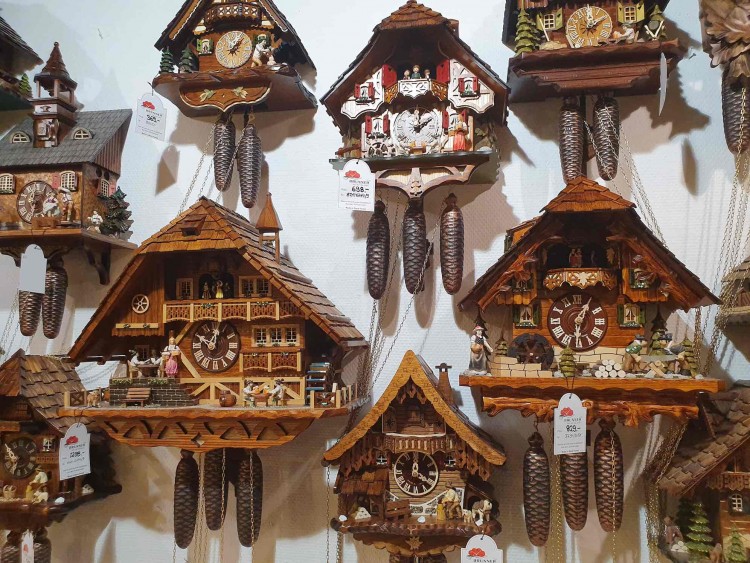 2020 June 05
Cuckoo Clocks - a German Tradition from the Black Forest
Near Stuttgart in the Black Forest you can find a wide selection .
Specialities from the Black forst
When you think about the Black Forest, there are many typical things - the special hat: Bollenhut, the special cake: Schwarzwälder Kirschtorte and the cuckoo clocks!
Cuckoo Clock - the history
But why does a cuckoo live in the watches? It could also be a nightingale or a cock!?!
Of course, that would not be a problem with modern technology today. But the cuckoo clock is a traditional product that comes from a different time.
There are many stories and anecdotes about the beginning of the idea of building such a special clock. But it is certain that the first cuckoo clocks are already known from the early 17th century. For this reason, only purely mechanical solutions came into question for the construction of a cuckoo clock. The call of a cuckoo is comparatively easy to imitate with only two tones. Also the inspiration of the local wildlife in the Black Forrest and the relatively simple design meant that a cuckoo was selected for the clocks.
Technical stuff
Classic cuckoo clocks are usually mechanical wall clocks with pendulum work. In addition, more models with quartz movement came on the market in recent years. All watches are equipped with a mechanical cuckoo, which sits behind a flap in the case and which calls every hour. In addition there is usually a gong or depending on the model even a musical melody. Classic cuckoo clocks are usually decorated with wood carvings.
Where to buy
You can buy these clocks in the Black Forest (there are lots of typical clock shops) or in the internet. But be careful not to get a fake one. You should use a certified shop for your shopping.
But do not go to the Schwarzwald for shopping only - it is a wonderful region to explore - read more about what else you can explore.
For example :
Uhren Brunner
The Titisee is a nice place to visit and you can go to shop a clock there too!
Haus der 1000 Uhren
House of 1000 clocks
Olis Schnitzstube
also custom made clocks
Have fun exploring!
May 2020 by Christine Krämer
This blog post is a personal recommendation and based on personal experience. It has been prepared with the greatest possible care and does not claim to be correct, complete or up-to-date."
If you like what we do - please share with your friends.
https://www.instagram.com/kiramiga/
https://www.facebook.com/relocationbykiramiga/
or sign up for our NEWSLETTER on our website.
---
---