2018 December 02
Advent - time to bake Plätzchen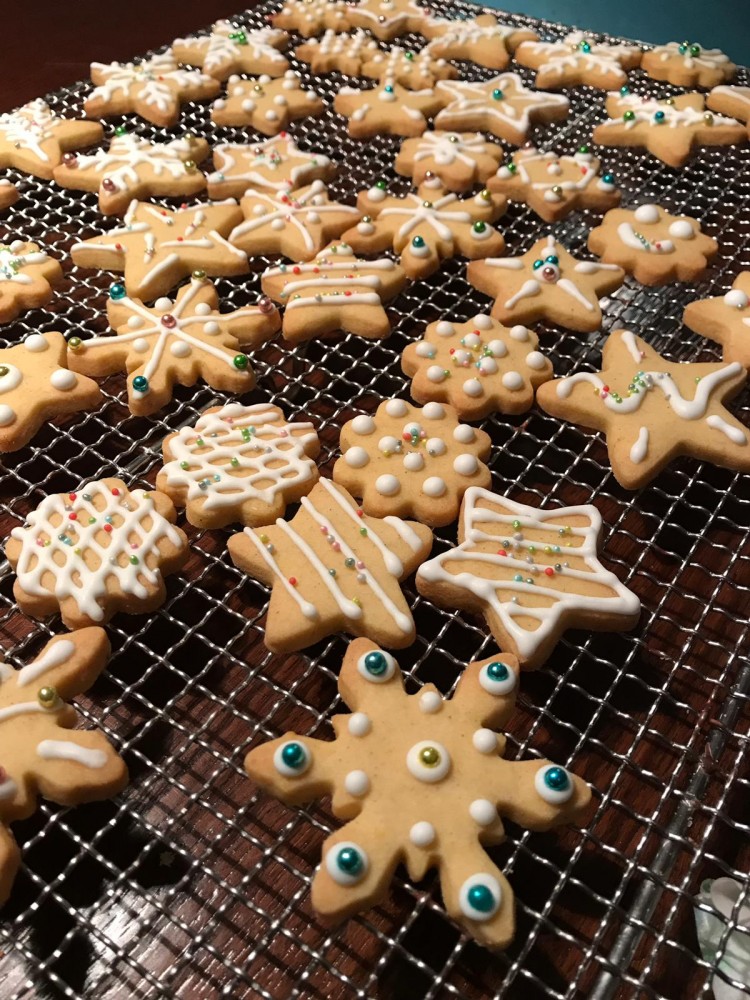 ... Christmas Cookies by our Welcome Angel Lilly - look at the pictures - and they are really yummy too.
Christmas Cookies - They have so many different names
Plätzchen, Gutsle, Platzerl, Bredle, Brötle, Läuble, - this is how they call cookies / biscuits in Germany around Christmas or some more specifically Stuttgart.
Tradition
Germans love to bake Plätzchen (Christmas cookies), "Lebkuchen" (soft ginger bread) and "Stollen" for Christmas. The point of "Plätzchen and Stollen" is the ritual of baking – of gathering with family and friends
Plätzchen literally means "little place" but it originates from "Platz" or "Blatz", which means "flat cake"
It is a tradition here to bake Plätzchen before Christmas. Very often involving the children, who love to do Ausstecherle (as they call them in Stuttgart). These are Plätzchen pressed or cut out in shapes as hearts, stars, bells, snowflakes ....
different kinds
Stuttgart is famos for Gutsle called Butter S, Bärentatzen and Springerle.
My favorite ones are Vanillekipferl (Vanilla moons) - see recipe below.
Lebkuchen have a dark spicy dough and range from spicy to sweet. They usually contain honey and a lot of different spices such as ginger, cardomon, cloves, aniseed and some contain different nuts as well.
Stollen is a bread-like cake usually made with some combination of dried fruits, candied citrus rinds, nuts and sometimes marzipan rolled in butter after baking and coated with powdered sugar, riped for a while so it gets really tasty. Germans eat it as it is or with butter or with butter and jam.
Please have a look at the selection of home made Plätzchen by our Welcome Angel Lilly. She excels herself every year and they don't only look good – they are really really YUMMY, too.
Roots of the tradition
In the Internet you can find several explanations as to why we have this tradition.
Apparentely the celts started the tradition of baking cookies. How so? To celebrate winter soltice / midwinter the celts baked breads as offering for the Gods – to put the Gods in a gracious mood and ward of evil.
In medieval times, the monks and nuns took over this tradition and started baking Christmas breads later smaller Plätzchen to celebrate the birth of Jesus. The ingrediets were quite rare and expensive, too. Saying is that the baked goods were distrubed amongst the poor around Christmas and New Years.
In the 19th century ordinary families started to bake Plätzchen. Since then this is a tradtion during Advent.
DIY - recipes & supplies
Keen on doing this yourself? You can get all the supplies especially the Ausstecherle (cookie cutters in all sort of shapes) at Christmas markets or in household stores like Tritschler or Kaufhof in downtown Stuttgart or even bigger supermarkets.
And here are some links for traditional recipes in English:
https://baketotheroots.de/category/christmas/
And some recipes for babies & kids especially on our partner page Gravidamiga.



November 2018 Kira Neumann
This blog post is a personal recommendation and based on personal experience. It has been prepared with the greatest possible care and does not claim to be correct, complete or up-to-date." Picture credit: Kiramiga & Lilly Nestel
If you like what we do - please share with your friends.
https://www.instagram.com/kiramiga/
https://www.facebook.com/relocationbykiramiga/
or sign up for our NEWSLETTER on our website.
---
---