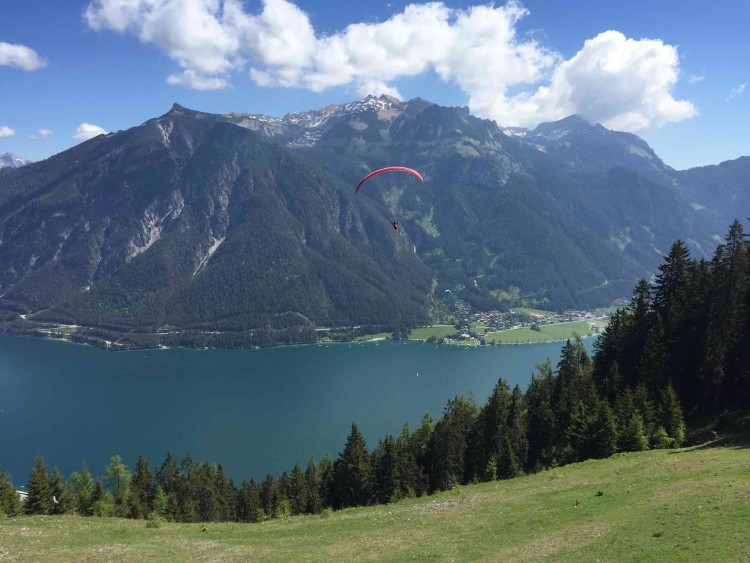 2021 June 08
Achensee & Tegernsee
Great holiday regions just across the borders from Germany and Austria.
You simply cannot go to the Achensee without having a look at the Tegernsee in Germany, which are next to each other (more or less).
Lake Tegernsee
You can plan your holiday here or just visit for a few hours doing little detour on or from your way to Lake Achensee – you can save the MAUT (TOLL) if you go to Achensee via TEGERNSEE. The Tegernsee is a famous German lake & recreation area near Munich. Also a holiday region at any time of the year and great for hiking and more. I partly grew up there and it is beautiful for hiking and skiing.
If you are into food – the Braustüberl is famous and a must! Just look at the yummy pictures of the Schweinshaxe we had – a typical bavarian dish.
Have a look at their website to learn what the region has to offer.
Lake Achensee
Tirol's largest lake with five surrounding villages - nestled into the fascinating mountain scenery of the Karwendel and Rofan mountains. The region is a popular holiday destination for summer, winter, wellness and family holidays.
The region is great for hiking (easy strolls and more advanced), skiing, boat tours, golf, paragliding to name the activities, but there are also museums for the rainy days.
Best explore their website to know in detail what this region has to offer.
TIPS for Bargains
Achensee Card / Achensee Holiday Card
Explore the very best with one of these discount cards - Tour the mountains with the Rofan cable car in Maurach and the Karwendel cable car in Pertisau, cruise Tirol's largest lake with the ships of the Achenseeschiffahrt, go on a journey through time at the Achensee Museum World in Maurach, the Swarovski Crystal Worlds in Wattens, at the Sixenhof museum of local history in Achenkirch, at the Vitalberg Tiroler Steinöl Museum in Pertisau or the Notburga Museum in Maurach.
The cards can be obtained at the Rofan Cable Car or Karwendel Cable Car cash desks and at the Tourist Information offices in Achenkirch, Maurach, Pertisau and Wiesing. Many accommodation providers also sell the card directly.
TIPS FOR FAMILY HOLIDAYS IN SUMMER
There is a children's & a youth programme (10-16 years) in summer offered weekly from Monday to Friday for all children in the holiday region
The holiday region of Achensee also has a special offer for families, with lots of different attractions, such as the forest high rope course in Achenkirch, the countless playgrounds in the region and family-friendly hikes providing a special offer for families throughout the summer.
There are also some special hotels catering to families – more in our blog post about Kinderhotels / family hotels.
Read more on the region, book you accommodation and more: Link to website of Achensee.
Enjoy your break!
June 2020 by Kira Neumann
This blog post is a personal recommendation and based on personal experience. It has been prepared with the greatest possible care and does not claim to be correct, complete or up-to-date." Credit to https://www.achensee.com/en/, picture credit: Kiramiga
If you like what we do - please share with your friends.
https://www.instagram.com/kiramiga/
https://www.facebook.com/relocationbykiramiga/
or sign up for our NEWSLETTER on our website.
---
---